KAT RIGGINS (USA)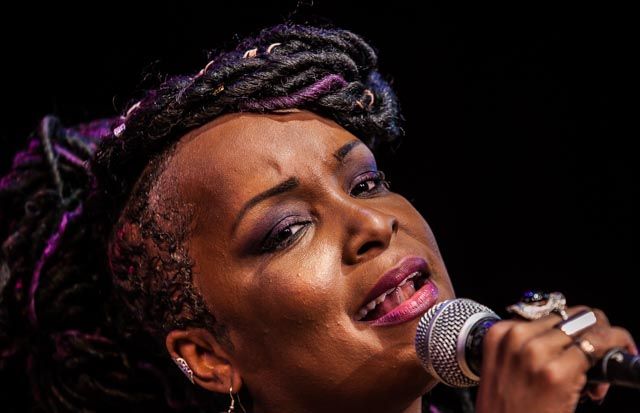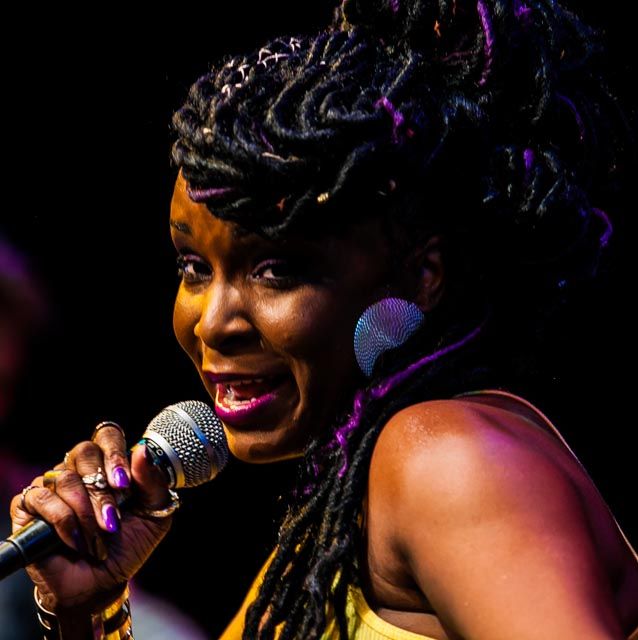 (pictures: Bert Lek)
Kat Riggins was born Katriva Riggins in Miami, Florida on February 7, 1980. She grew up in a household where there was always background music. Because of the wide range of genres in her parents collection, Kat developed a love for all types of music from gospel and soul to country and rock and everything in between.
She was drawn to the smokey gritty sounds of artists like Bessie Smith, Sam Cooke, Nina Simone, Tina Turner, Denise LaSalle, Etta James, Ray Charles, Koko Taylor, Janis Joplin and the list goes on. She grew up singing in local programs, church events, and family gatherings with her sister and cousins. At age 23 Kat landed a gig singing jazz and blues standards in a small lounge in Sunny Isles Beach, Florida with the accompaniment of only a piano player. Since then she has performed throughout Florida, New Orleans, Vietnam, Thailand, China, South Korea, Curacao, Germany, Belgium and The Netherlands so far.
Kat's own musical style is a blend of the blues with hip hop, pop, rock,gospel and even country music.
With her first two works, an EP called "Seoul Music" and an original album called "Lily Rose" Kat penned each song with subtle hints of her love of the blues. Her latest album, aptly named after her band "Blues Revival" is a loud and proud declaration of that love!
"Blues Revival" is a clever mashup of gospel-blues, blues-rock, funky blues, contemporary and traditional blues, with BLUES being the operative word! With this and albums to come, Kat Riggins's focus is to be a part of this musical revolution that aims to awaken the masses and introduce them to the sincerity behind blues music.
Her European September 2017 tour was something to remember!
With shows in the Netherlands, Belgium and Germany, and lots of great reviews and comments.
2018 saw her touring frequently with the ''Johan Derksen keeps the blues alive'' Theater Tour. And she and her ''Blues Revival did several club gigs and festival gigs all over Europe.

And for 2019: here is some interesting news: again Kat Riggins will be part of the Dutch Theatre Blues Tour with Johan Derksen, a true blues ambassador from the Netherlands.

This ''Johan Derksen keeps the blues alive'' tour will be on the road from October 2018 until end of March 2019).
KING BEE MUSIC TOUR DATES
Kat Riggins & her ''Blues Revival''
01-03 NL - Zoetermeer / JJ Music House
02-03 BE - Glabbeek / Festival
01-06 DE - Zyfflich / Blues Festival
07-06 NL - tba / Festival
09-06 BE - Oud Turnhout / Goezot Festival
15-06 NL - tba
24-06 BE - Ruiselede / BananaPeel
18-07 NO -
19-07 NO
24-08 NL - t.b.a.
29-08 NL - Naaldwijk
06-09 DE - Willich
07-09 BE - Geel
26-10 SE - Blues Festival
06-11 DE - Kandern
07-11 DE - Stuttgart
08-11 DE - Birkenfeld
09-11 BE - Haringe / BlauBlues Festival
10-11 NL - Roermond
15-11 BE - Hermalle
16-11 NL - Tilburg


Kat Riggins & Erwin Java Band
30-11-2018 NL - Leeuwarden
13-01-2019 NL - Drachten
17-02-2019 NL - Hilversum
16-03-2019 NL - Amersfoort
29-03-2019 NL - Oss
31-03-2019 NL - Dongen
29-06-2019 NL - Rhoon
01-11-2019 NL - Goes
Summer (June - September) 2019 open for festivals and club shows.
26 October - 16 November 2019: EUROPEAN TOUR (with Blues Revival)