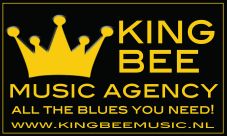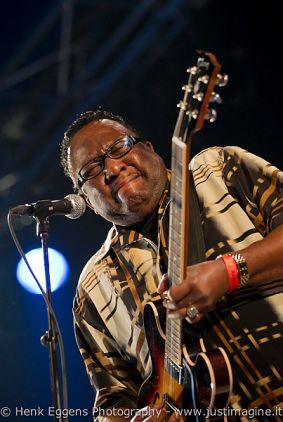 PRESTON SHANNON (USA)
Memphis-based guitarist, singer, and songwriter Preston Shannon delivers soul-filled vocals atop his burning, venom-tipped guitar chords.
His voice is deep and guttural, and he's a veteran of hundreds of live club shows and recording sessions as a sideman.
Preston Shannon's specialty is a blend of Southern-fried soul and blues, and his albums and live shows are an eclectic mix of danceable, grooving tunes and slow, soulful ballads.
Born in Olive Branch, MS, Shannon's family moved to Memphis when he was eight. Although his Pentecostal parents didn't initially accept his fascination with blues music, they eventually did when they saw how serious he was about pursuing the music for his livelihood. Preston Shannon served as a member of a popular '70s bar band Amnesty and played in a succession of other Memphis-area bands while working by day for a hardware company. Finally, he decided to play music full-time when he landed a spot in soul-blues belter Shirley Brown's band.
It wasn't until 1991 that he put together his own band and began playing the clubs on Beale Street and other places. In the early '90s, he was discovered playing in a Beale Street blues club by producer/keyboardist Ron Levy, who brought Shannon's talents to the attention of executives at Rounder Records. Shortly afterwards, in 1994, his first widely distributed recording was issued on the label.
Preston Shannon has recorded three albums for the Rounder Bullseye Blues subsidiary, Break the Ice (1994) Midnight in Memphis (1996), and All in Time (1999). For Continental Blue Heaven he released Going Back To Memphis (2010) and in the spring of 2014 a new album will be released on that label. This album will be a tribute to Elmore James, the late Chicago slide master.

All four albums more than adequately showcase his talents as a singer who can alternate between uptempo, gospel-inspired numbers and slower, soulful love songs and ballads.
Shannon's guitar playing contains echoes of the Kings (Albert and BB) and T-Bone Walker, and some of the rhythmic sensibilities of Little Milton Campbell.
For many years a homebody who couldn't be heard much outside the Memphis city limits, Shannon has done some road work in recent years, traveling to blues festivals around the U.S and Europe.
On his European tours Shannon works with Fat Harry & the Fuzzy Licks, featuring a 3-p. horn section. .
Video, live at the North Sea Jazz Club Amsterdam (16.03.2014) "As the years go passing by'

TOUR PLANS 2018:
13-04
14-04 NL - Ridderkerk
15-04 NL - Grolloo