SUGAR QUEEN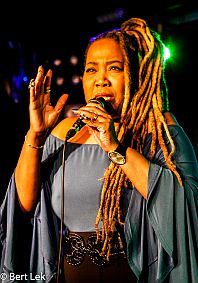 Sugar Queen: a collection of American/Belgian/Dutch blues musicians.
Michele Denise, known as The Sugar Queen, is a versatile American vocalist whose musical roots started in gospel.
The Band is comprised of Belgian and Dutch seasoned blues artists.
Sugar Queen performs music which touches a wide range of emotions and blues styles. Straight blues.
Giving the audience a journey from injustices, lost loves to a dance celebration of pleasure and success. Straight blues. Sugar Queen invites you to come along.
Their first album, called ''340 Blues'' got great reviews, and is still selling well.
Their new album (live) will be released in March 2019.

The Band
Michele Denise - vocals
Thierry Stiévenart - drums
Erwin Huigen - bass
Andy Aerts - guitar
Jean Raven - guitar
April 2019 CD Promo-tour:
06-04 BE - Liege
07-04 DE - Rheinberg
08-04 DE - Weinheim
09-04 LU - Luxembourg
10-04 DE - Kandern
11-04 CH - Basel
12-04 DE - Murg
13-04 DE - Stuttgart

21-04 NL - Rhoon
26-04 NL - Dordrecht / CD Party
01-06 BE - Zottegem
05-07 LU - Festival
28-07 NL - t.b.a.
Previous Tour dates 2018:
07.01 NL - Zoetermeer / Meet & Greet + CD Release Party at JJ Music House
14.01 NL - Bunnik
20.01 BE - Roeselare
10.02 FR - Douzy
17.02 NL - Delft
25.02 NL - Amen
10.03 NL - Leerdam
25.03 NL - Rotterdam
22.04 NL - Wageningen
21.07 LU - Luxembourg
08.09 NL - Zoetermeer
15.09 NL - Nispen
16.09 NL - Rijen
21.09 BE - Hermalle
29.09 NL - Boxmeer
18.10 BE - Bredene
03.11 NL - Rosmalen
10.11 BE - Haringe
28.12 NL - Gramsbergen