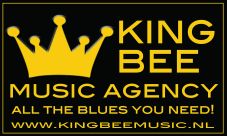 King Bee Music Agency proudly presents: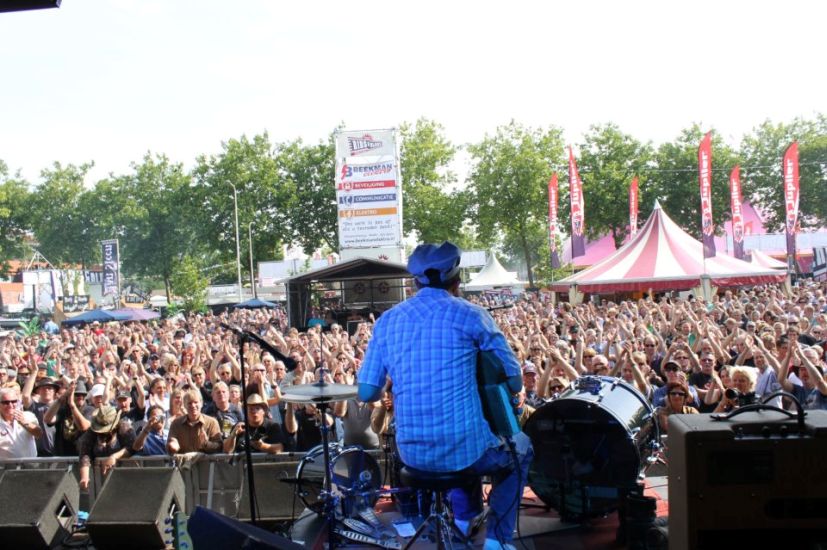 Ben Prestage (USA)
"Mississippi Juke Joint Blues, Appalacian Dance tunes
and his own brand of Florida Swamp Blues"
DUE TO CORONA THE ''2020'' TOUR IN EUROPE WAS CANCELED !
TOUR JUNE 2022 CANCELED TOO !!
BIOG.

If you think this is going to be an evening of subdued acoustic blues, think again!
Ben Prestage has to be seen and heard to be believed, playing a multi-piece drum kit with his feet and an array of stringed instruments to create a Muddy-Waters-meets-back-water stew that won him the Most Unique Performer Award at The Songwriters' Showcase of America. And as anyone who has seen one of Ian Siegal's solo shows will testify, there is nothing subdued about it. He is fiery, raw and passionate.
Close your eyes, take a breath and listen to Ben Prestage. Take in the hearty blues twang of the strings of his guitar, the smoky-scratchy tone of his voice, the backwoods, juke joint, live and unfettered soulful joy of it all. Be thrilled that there's a young guy… who's descended from vaudeville singers, boogie-woogie musicians and a Delta sharecropper, with his own spin on the blues and a very nifty one-man band setup (including a cigar box guitar). Go see him … Be amazed" .... Leslie Streeter (Palm Beach Post)

Website: www.benprestagemusic.com
Zijn overgrootmoeder was een Vaudeville-muzikante die optrad tijdens medicine-shows en met Al Jolson tourde, grootvader was een sharecropper in Mississippi en moeder was een talentvolle boogie-woogie pianiste. Het is daarom niet verwonderlijk dat Ben Prestage vanaf zijn eerste levensdagen opgegroeide met de Mississippi cultuur en blues traditie. De banjospeler die naast hem woonde spoorde de jonge Ben aan dit instrument te gaan bespelen.
Na zijn verhuizing naar Florida nam hij de Mississippi Country Blues van zijn geboortegrond en ontwikkelde daaruit een eigen interpretatie van de Florida Swamp Blues. Deze stoofpot van "muddy-water meets black-water" bezorgde hem vele optredens van Californie tot North Carolina tot in de Florida Keys.
Hij speelde op grote blues- en folk-festivals, allerlei soorten bars en straathoeken van de stad. Zo speelde Ben Prestage een tijd lang op de beroemde Beale Street in Memphis waar hij zijn plek deelde voor het New Daisy Theatre met de legendarische bluesman Robert Belfour en de jongere Richard Johnston. Die laatste inspireerde hem om zijn muziek een nieuwe richting te geven. Aan de gitaar en banjo voegde hij een cigarbox-gitaar toe (gemaakt door John Lowe). Deze gitaar bestaat uit sigarendoos voorzien van twee besnaarde bezemstelen die onafhankelijk van elkaar uitversterkt worden. Daarnaast bespeelt hij met behulp van pedalen met zijn voeten de drums. Op deze manier creëert Ben Prestage een eigen stijl blues die zorgt voor een stroom van lege flessen en volle dansvloeren. Mocht je dus denken dat het om ingetogen akoestische blues gaat, let dan op! Ben Prestage is een openbaring: hij speelt gitaar, mondharmonica en drums tegelijk en doet dat vurig, rauw en gepassioneerd.

Video's:
Ribs & Blues Festival Raalte (NL) 12.06.2011


http://www.youtube.com/watch?v=QbkbB32HOEc


http://www.youtube.com/watch?v=T44862sjcSg


Q-Bus / Muziekhuis Leiden (NL) 07.06.2011
http://www.youtube.com/watch?v=qDC2xM_QJWc&feature=related
Bluesmagazine.nl over Ben Prestage:
Het duurde slechts enkele songs, maar toen had Ben Prestage ook het Bredase publiek volledig in z'n broekzak.
Met zijn inmiddels bekende cigar-box gitaar, begeleid door zijn eigen 'one-man' band presteert deze charmante baardige 'Hillbilly lookalike' het iedere keer weer om binnen no-time zijn toehoorders naar zijn hand te zetten met zijn unieke show!
TOUR DATES 2020:
26-05 Arrival Amsterdam
27-05
28-05 DE - Ingolstadt CANCELED / CORONA
29-05
30-05 NL - Maastricht CANCELED / CORONA
31-05 NL - Raalte CANCELED / CORONA
01-06 DE - Weinheim CANCELED / CORONA
02-06 AU - Andelsbuch CANCELED / CORONA
03-06 AU - Dornbirn CANCELED / CORONA
04-06 DE - Stuttgart CANCELED / CORONA
05-06 CH - Crissier CANCELED / CORONA
06-06 DE - Rommerskirchen CANCELED / CORONA
07-06 NL - Eindhoven CANCELED / CORONA
08-06 BE - Ertvelde CANCELED / CORONA

EUROPEAN 2018 TOUR:
01-11 NL - Gemert
02-11 BE - Liege
03-11 NL - Rosmalen
04-11 NL - Rotterdam
05-11 NL - Breda
06-11 BE - Gent
07-11 NL - Geldrop
08-11 DE - Ingolstadt
09-11BE - Overpelt
10-11 NL - Monster
11-11 BE - Antwerp

PREVIOUS EUROPEAN TOURS:
1 - 18 June 2016
EUROPEAN TOUR DATES 2015:
28-05
29-05 NL
30-05 NL + DE
31-05 NL
01-06 DE
02-06 AU
03-06 AU
04-06 DAY OFF
05-06 NO
06-06 NO
07-06 NL
08-06 BE
09-06 NL
10-06
11-06 DE
12-06 DE
13-06 DE
14-06 NL


Tour dates 2014:
18.04 NL - Brunssum
19.04 NL - Enschede
20.04 NL - Reuver
21.04 BE - Zelzate
25.04 BE - Peer
26.04 NO - Egersund
27.04 NL - Eindhoven
28.04 BE - Ruiselede
29.04 FR - Arras
01.05 CH - Scherzingen
02.05 DE - Stuttgart
03.05 AU - Dornbirn
05.05 DE - Ingolstadt
22-07 SCO - Edinburgh Jazz & Blues Festival
23-07 SCO - Edinburgh Jazz & Blues Festival
24-07 SCO - Edinburgh Jazz & Blues Festival
25-07 SCO - Edinburgh Jazz & Blues Festival
26-07 NL - Eindhoven
27-07 NL - Zwarte Cross Festival
TOUR 2013:
25-10 Le Parc, Luik (B)
26-10 Dorpscafé, Blesdijke
27-10 Parties, Meijel
28-10 middag: Radio Rijnmond - Live @ Lloyd, Rotterdam
28-10 avond: De Wipschutter, Kontich (B)
29-10 Day Off
30-10 Dordrecht
31-10 De Nodige Deugd, Moorslede (B)
01-11 't Hof, Zaltbommel
02-11 Blues aan Zee Festival, Monster
03-11 Crossroads Café, Antwerpen (B)
04-11 De Blauwe Kater, Leuven (B)
05-11 Private event.
06-11 Roots in 't Groen, Groen Koffiehuis, Geldrop
07-11 Valkenswaard
08-11 Metropool, Hengelo
09-11 C-Blues Festival, Heerlen
10-11 't Spektakel, Asten
11-11 The Other Side Peer (B)
TOURS 2012:
We had a fantastic tour in April & May, with gigs in Germany, Belgium, France, and Holland.
Highlights: Moulin Blues Ospel (NL), Kwadendamme Blues Festival (NL), Laboratorium Stuttgart (D), Neue Welt Ingolstadt (D).
Check YouTube for some great video's !!!
The tour in July was pretty cool too ! With an outstanding gig at the Zwarte Cross Festival in Lichtenvoorde (NL).
And last but not least: Paradiso Amsterdam on the last day of this tour !
.
October tour (Festivals & Clubs)
An incredible 4 weeks tour with highlights in Hamburg, Burgum, Culemborg (Bluescruise)