EXILE - Tribute to The Rolling Stones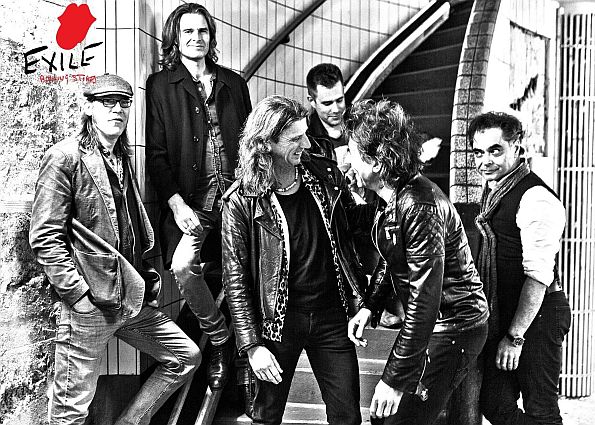 Deelnemer aan ''The Tribute - Battle of the bands'' van SBS6 !
Exile compilatie ''Battle of the bands''
Eind jaren zestig dook de term 'supergroup' op.
En laat dit nu precies zijn wat 'Exile-Rolling Stones' het best omschrijft;
een fusie van zes topmuzikanten die allen al actief waren in Rolling Stones tribute bands
als The Stolling Rones, The Dead Flowers én bands als Nod Stewart and the Faces en Bourbon Avenue.
Er hoefde geen ingrediënten te worden toegevoegd. Goats Head Soup, ready to serve.
Exile is :
Jeroen van As - gitaar (Nod Steward and the Faces, Dirty Works)
Pat de Wolf - drums (Stolling Rones)
Mike Vos - zang (The Dead Flowers, The Bootleg Doors)
Brian Kruit - bas (Bourbon Avenue, The Bootleg Doors)
Stephan Bijl - gitaar (Stolling Rones, Raymunda)
Jeroen Dikkers - toetsen (Bourbon Avenue)
Jan de Ligt - saxofone [o.a.Normaal, Gruppo Sportivo, Kat Riggins]
Exile' dankt zijn bandnaam aan het absolute meesterwerk van The Rolling Stones, Exile on Main Street uit 1972.
Vanzelfsprekend put 'Exile' niet alleen uit de klassiekers van dit geniale album.
Verwacht een ware, energieke Rolling Stones Tribute show vol hits en album-tracks,
maar wel met dezelfde dynamiek en intensiteit zoals The Stones dat brachten in the 70-ties.
En dat mét een volledige video-show (Indien facilitair mogelijk) en zónder pruiken of pedante danspasjes.
Exile focuses on the raw energy of The Rolling Stones from the late Sixties and early Seventies.
Mostly because it was this period in Rock 'n roll history that made the Stones unforgettable!
Exile (based in Rotterdam), was formed in the summer of 2019 and had a quick start with gigs all over Holland, the UK, Germany and Belgium.
It's a group of professional musicians that have been working together for years and got to know each other while playing with Herman Brood, GRUPPO SPORTIVO, Normaal a.o.
This time this group of Rock 'n roll addicts decided to come together again, simply because of their love for music of the Rolling Stones!
DE VOORLOPIGE AGENDA 2022:

18-03 NL - Gouda
25-03 NL - Leerdam
26-03 NL - Dinteloord
09-04 NL - Aalten
27-04 NL - Rotterdam
14-05 NL - Venrai
28-05 NL - Zoetermeer

12-06 NL - Weteringbrug
02-07 NL - t.b.a.
19-11 BE - Heist aan Zee