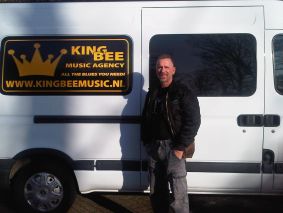 * Blues Promotion / We represent bands from USA / UK / NL / AUT ...
* We can offer you Blues bands for Festivals, Theatres, Clubs ....
* Tour Management

* Blues Festivals
20 years King Bee Music Agency !!

It all started in 1990 when I visited a local blues club.
At this club some local blues bands were rehearsing, and after a few meetings with those bands I knew I was effected by the blues !
In 'no time' I was 'working' as a booker ! Officially registrated since 2000 !

Today, 30 years later, I am proud and pleased to say that King Bee Music Agency has become a respected blues booking agency all over Europe.

We still are 'fans' of the Chicago Blues (and Texas Blues).
Artists such as John Primer, Kat Riggins, Sugar Queen, Super Chikan, Giles Robson (UK), are great examples of the original Chicago Blues.
But we do like blues rock too.
Eric Steckel, Danny Bryant, Stevie Nimmo, and The BluesBones were part of the King Bee Music family once.
Since several years we work with blues rock bands like Sari Schorr and Big Monti Amundson.

Looking for a blues band? We can offer all different styles and variaties ...acoustic, Chicago blues, blues rock, one man bands ....

Don't hesitate to contact us if you need some assistance for your Festival line up.
We are proud to say that we have many years of experience with festivals such as Zoetermeer Blues, RosBlues, ScheldeBlues ....
Because of our excellent contacts in the blues scene, we do know what people expect when they ask us to take care of their festival organisation.

Many festival promotors have found King Bee Music Agency, and they were glad to use our friendly and professional way of handling all of this.
Of course we are officially registrated, so absolutely no (financial) worries at all when you deal with King Bee Music Agency.
Call or email us. Maybe we can make the difference.
KING BEE MUSIC AGENCY
Email: info@kingbeemusic.nl
Tel: ++31 (0)79 3605111 / (0)6 20181528