JOEY GILMORE (USA)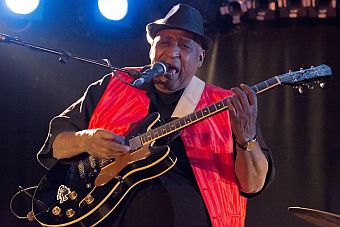 (Foto Walter VanHeuckelom)
Joey Gilmore's love affair with the guitar began in his teens.
"In the town that I lived in, there was a barbershop," Gilmore reminisces. "And the barber that owned the shop was a sanctified preacher.
He was a minister, and he had this little flat-bodied guitar. It was electric, no amplifier to it. And he would bring it to the shop with him, and he was trying to learn how to play.
So, I would get to the barbershop early whenever I would go to get my hair cut, or even after school, I would hang around at the barbershop, because I wanted to get my hands on that guitar.
I would take the guitar and they had these old wooden benches. I would lay the guitar on top of the wooden bench and when you would strum the strings, the wood, the bench, would vibrate, and the floor would, the sound would resonate, and you could hear it without the amplifier. I learned just from watching him."
Young Gilmore tried to keep his obsession with the instrument from his church going aunt, who was raising him, but word of the talented boy who played at the barbershop eventually got back to her."
Decades later and established as a Florida legend, Joey Gilmore provides a highlight at Blues Festivals and night clubs all over the world as one of the best soul-blues and R&B singers in the business. Joey Gilmore has shared the stage with Such Greats As James Brown, Etta James, Bobby Bland, Little Milton, Johnny Taylor and numerous others.
In January 2006 Joey Gilmore won one of the most distinguished and internationally coveted awards in all of blues. The IBC. Joey Gilmore outscored all artist worldwide while showcasing his amazing talent at a blues industry event. Making him the best unsigned Artist on the planet. In 2008 Joey Gilmore was awarded the Blewzzy award for best song, BLUES ALL OVER YOU. In 2015 Joey Gilmore was honored with Latin World Talent Lifetime Achievement Award. He continues to soar in the music industry.
His latest releases:
BRANDON'S BLUES on Mosher St. Records.
RESPECT THE BLUES on Mosher St. Records.
On his European tours Fat Harry & The Fuzzy Licks are his back up band.
Fat Harry & The Fuzzy Licks are a well-known band from the Netherlands.
Over the years they have worked with blues musicians such as Preston Shannon, John Primer, Kat Riggins, Rip Lee Pryor, Joe Louis Walker, and many more.
TOUR DATES:
t.b.a. for 2022