KAI STRAUSS
(& THE ELECTRIC BLUES ALLSTARS)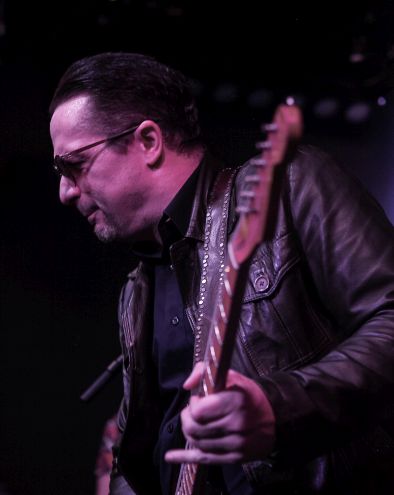 (Foto: Bert Lek)
Continental Records artist

Songs from ''Live in Concert''

Kai Strauss has been a well-known name among European Blues lovers since the early nineties.
The guitarist and singer discovered his passion for the music of Albert King, Buddy Guy, the Vaughan brothers and many others as a teenager in the 1980s and soon countless nights at the local blues jams followed.
From the mid 1990s on you could find him on stages all over Europe alongside Texan harmonica player Memo Gonzalez and today, after more than 25 years on the road, Strauss is mentioned in the same breath with contemporary US blues guitar heavy hitters.
Now, at the age of 50, he released his sixth album – aptly titled "In My Prime". Strauss is an experienced musician with a signature style, grown up from the respect he has for his idols.
He knows all the pioneers: Guitar Slim, Luther Tucker, all three Kings, Otis Rush and Magic Sam.
You can't pin him on anyone, and yet they all live through his playing, traditional and contemporary all in one.
Strauss understands that the music should always tell a story. On "In My Prime", a first-class band lights a fire of 70's funky blues influences underneath Kai, and his heartfelt vocals and strong guitar playing full of punches of feelings and emotions shine through new original songs about personal experiences ("Guest In The House Of The Blues"), current topics ("World Crisis Blues") and also the dark side of life ("Put That Bottle Down").
Maybe he is, as he says, in his prime with this release. But "In My Prime" is definitely not just a repetition of his previous work, but evidence of his musical and personal growth that will ensure him as a meaningful and exciting blues artist for years to come.
Strauss is a multiple German Blues Award winner and tours all year with his international group Kai Strauss & The Electric Blues All Stars.
KING BEE MUSIC TOUR DATES 2023 - 2024:
27-01 NL - Zoetermeer / Stadstheater Blues Festival met verder nog Giles Robson, Sugar Queen, Big Bo, Little Steven & Toussaint
28-01
29-01 NL - Peize / Café Enzing
March:
Tony Vega / Kai Strauss & Band ''On Tour'' [06 - 26 March]
November:
25-11 NL - t.b.a.
January 2024:
12-01
13-01 NL - Wijk bij Duurstede
14-01
WHAT PEOPLE SAY ABOUT KAI STRAUSS:
"Excellent playing, with a lot of maturity and emotions."
Bruce Iglauer, Alligator Records, Chicago (USA)
"This is high energy top quality electric blues as it should be, from the heart and with punches of feelings and emotions. Hard to believe this man is a blues player from Germany and not from Chicago or Memphis."
Blues Matters! UK
"Strauss vibrates with deep musical understanding… he shows the killer instinct that the old masters like Magic Sam had – Highway Blues is one example. Strauss' so good here it's scary."
Otis Grand, London (UK)
"Blues Champions League."
Bluesnews (GER)
"Kai Strauss is one of the top blues musicians today. Traditional and contemporary all in one."
Mike Wheeler, Chicago (USA)
Have a look at his website for additional information: www.kaistrauss.com
---------------------------------------------------------------------------
KING BEE MUSIC GIG DATES 2022:
04-02 NL - Delfzijl / De Molenberg
20-02 NL - Grolloo / Hofsteenge
03-04 NL - Dongen
17-04 NL - Reuver
14-10 NL - Texel Blues Festival
KING BEE MUSIC TOUR DATES 2021:
28-08 BE - Herselt / Gevarenwinkel Festival
18-09 NL - Tilburg / Heyhoef

05-11 NL - Borger
06-11 NL - Rosmalen / King Bee Music Blues Night
07-11 NL - Rhoon / Kasteel van Rhoon [bluesopzondag.php]
04-12 NL - Delfzijl / Canceled and postponed to 2022
16-12 BE - Menen / CC de Steiger