Meena Cryle & The Chris Fillmore Band (AT)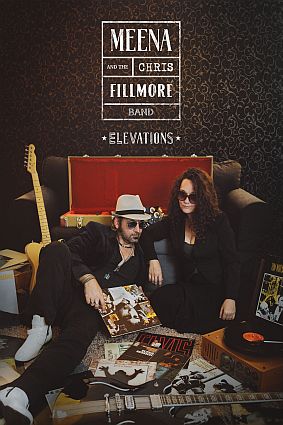 Meena Cryle signed with Continental Blue Heaven (CRS blues label)
January 2017 saw the first release in what the label expects to be a long term collaboration!

October 2019 was the release of their brand new album ''Elevations''
with 10 great songs
"It was like Etta James meets Stevie Ray Vaughan…".
(this statement of a concert-visitor is not too far-fetched)
Video's:
It makes me scream (2016 / Blues Festival Peer)
Since I met you baby (2015)
Enough is Enough (2015)
MEENA CRYLE & The Chris Fillmore Band, led by singer Meena Cryle and guitar virtuoso Chris Fillmore, are fresh off of their January 2017 release of "In Concert", their debut album for "Continental Blue Heaven/CRS".
The blistering performances collected on Meena Cryle & The Chris Fillmore Band - In Concert span their gigs at clubs, theatres and festivals from the past 18 months of non-stop touring.

Early listeners have called this the band's best work yet.

Their three highly successful releases on german top Blues label "Ruf Records", extensive tours in Europe and USA, as well as recent highlights like a sold-out show at the Vienna Opera House or their performance at the "Peer Blues Festival" (together with acts like Buddy Guy, Walter Trout, ...) prove their stand in today`s roots music scene.
Producer legend Jim Gaines (Stevie Ray Vaughan, John Lee Hooker, Santana,...) once praised Cryle as "one of the best singers I`ve worked with in 20 years. She is what we call in the business an `old soul`. She`s got the voice and she`s got the passion..."
There is an inherent magic that occurs when Meena Cryle & Chris Fillmore take the stage each night. It is an organic, spontaneous, and almost mystical experience to witness.
KING BEE MUSIC TOUR DATES 2023:
28-04 DE - Zwickau
29-04 DE - Baden Baden
30-04 DE - Schöpfheim
15-11 DE - Chiemgau
16-11 DE - Stuttgart
17-11
18-11 DE - Petershagen
19-11 NL - Peize
20-11 BE - Gent
21-11 DE - Offenbach
-------------------------------------------------------------------
KING BEE MUSIC TOUR DATES 2022:
28-05 BE - Duvel Blues
06-08 DE - Rheine
07-08 NL - Amen
17-11 DE - Eppstein
18-11 NL - Geleen
19-11 NL - Zeeland
20-11 NL - Dongen / Gouden Leeuw
25-11 DE -
26-11 DE - Idar Oberstein
27-11
(see www.meenacryle.com for ALL tour dates)
PREVIOUS TOUR DATES:
Tour dates 2021:
31-09 DE - Stuttgart
01-10 DE - Norderstedt
02-10 NL - Bergen op Zoom
03-10 NL - Grolloo
04-10 BE - Ruiselede
----------------------------------------------------
2020
24-05 NL - Grolloo CANCELED / CORONA
10-09
11-09 LU - Luxembourg
12-09 NL - Zoetermeer
13-09 NL - Weert
14-09 BE - Ruiselede (canceled)
03-10 NL - Bergen op Zoom (canceled)
04-10 NL - Grolloo (canceled)
05-10

PREVIOUS KING BEE DATES (2019)
17-01-2019 DE - Höxter
18-01-2019 DE - Braunschweig
19-01-2019 NL - Tilburg
20-01-2019 NL - Rhoon

PREVIOUS KING BEE DATES (2017)
26-01 DE - Hamburg
27-01 NL - Amsterdam
28-01 NL - Vlissingen
29-01 NL - Weert
30-01 DE - Celle
31-01
01-02
02-02 DE - Bensheim
03-02 DE - Zwickau
04-02 DE - Dresden
28-04 DE - Chiemsee Blues Festival
29-04 Day Off / Travel Day
30-04 NL - Amen
23-06 DE - Eppstein
24-06 BE - Ledegem
25-06 BE - Goor / Wuustwezel
29-07 LU - Blues & Jazz Rallye
30-07 NL - Brielle Blues Festival
15-09 DE
16-09 NL - Boxmeer
29-09 DE
07-10 NL - Assen
November Tour:
10-11 NL
11-11 BE
13-11 DE
18-11 DE
PREVIOUS KING BEE GIGS 2016:
01-05 NL - Amen
03-05 DE - Braunschweig
04-05 DE - Bielefeld
05-05 DE - Bad Soden
06-05 DE - Leverkusen
07-05 NL - Breda
02-06 DE - Stuttgart
04-06 NL - Zoetermeer
04-06 DE - Zyfflich
11-06 NL - Wijk bij Duurstede
12-06 NL - Private blues club
25-06 NL - Losser / Dennenblues Festival
27-06 BE - Ruiselede / BananaPeel
17-07 BE - Peer Blues Festival (with Buddy Guy, Walter Trout, Brian Setzer a.o.)
21-08 BE - Wespelaar / Swing Wespelaar Festival
26-08 DE - Habach / Village
27-08 NL - Culemborg Blues Festival
28-08 DE - Stuttgart / Festival
02-09 DE - Küps / Schmölzer Blues Tage
03-09 DE - Hamburg
15-09 BE - Menen
16-09 DE - Dortmund
17-09 BE - Mol
18-09 NL - Enschede
19-09 BE - Verviers
12-10 NL - Groesbeek / Blues Moose Café
14-10 NL - Texel Blues Festival
26-11 DE - Idar Oberstein / Blues Festival (with John Primer & the Real Deal Blues Band)