SARI SCHORR (USA)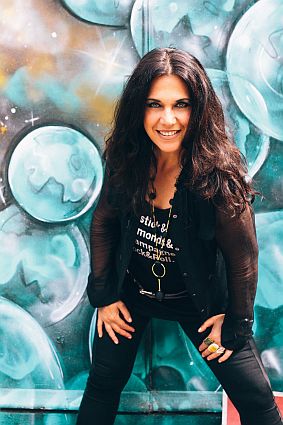 Every year there is seemingly a constant parade of must-hear singers right? Not really. They come along rarely if they're the real deal, as rarely as a seminal live album actually. Meet Sari Schorr. What makes her different is what makes all the others the same. She's got talent, who hasn't, but she has depth, life experience (like helping out in Haiti after the earthquake). She has real stories to tell. Sari is one of the few singers that can be, and is, mentioned in the same breath as Tina Turner, Elkie Brooks & Janis Joplin.
Sari Schorr first burst onto the Blues-Rock scene with her critically acclaimed debut album, A Force of Nature, produced by iconic British Blues pioneer Mike Vernon (David Bowie, Eric Clapton, John Mayall, Fleetwood Mac).
Sari's success comes after years trudging the rugged road of life of the hard-working Blues woman. From her humble beginnings, working the music scene in the legendary fierce South Bronx of New York and on Manhattan's Lower East Side, to a performance at Carnegie Hall, the operatically trained tornado stood her ground as a phenomenal Blues-Rock singer who would not be denied. Sari's home is her suitcase and her path has always taken her on the road less traveled. Her life is a story of never giving up, being true to yourself and, pursuing your dream against all odds.
Sari mixes a passion for music with a duty of social responsibility. She has devoted her talent and energy to music projects of a grand scale for humanitarian causes. Most notable is her work on a "Toast to Freedom" for Amnesty International, where she collaborated with many musical legends including Warren Haynes, Keb Mo', Taj Mahal, Eric Burdon and Carly Simon. Sari's humanitarian efforts include work in Haiti and India. She founded "Matters" – a non-profit that draws attention to humanitarian causes through the arts.
The Sari Schorr Band which comprises of Ash Wilson on guitar, Mat Beable on Bass, Roy Martin on drums, and Bob Fridzema on keyboard and Hammond, are the cream of the crop. If you have been to a Sari Schorr gig, you will know about the chemistry this band has on stage. The band are tight, the band are one, the band are in zone, the band are no question, totally in love with what they do. The energy, the chemistry, the camaraderie, the power of Sari Schorr and her band, translates to the crowd at every show.
For full bio, quotes, cover art and hi-res/web jpegs:
https://www.sarischorr.com/epk
QUOTES:
"Schorr can sing 'em. the New Yorker makes you believe every stormy line " - Classic Rock Magazine
"…one of the best contemporary blues rock singers in the world" - Raw Ramp
"Sari's songwriting reflects human emotions and experience, adding to the feeling of intimacy with her audience. She speaks of her commitment to tackle difficult subjects in her songwriting often considered taboo, such as domestic abuse and heroin addiction, offering a different perspective on topics of which no one wants to talk". - National Rock Review - Sonia Alani


King Bee Music tour dates 2022:

25-03 NL - Goes - 't Beest
02-04 NL - Reuver - De Schakel
03-04 NL - Grolloo - Hofsteenge
14-10 DE - Freudenburg - Ducsaal
15-10 NL - Tilburg - Heyhoef
16-10 NL - Texel - Blues Festival
TOUR DATES 2023:
April * Summer Festivals * October