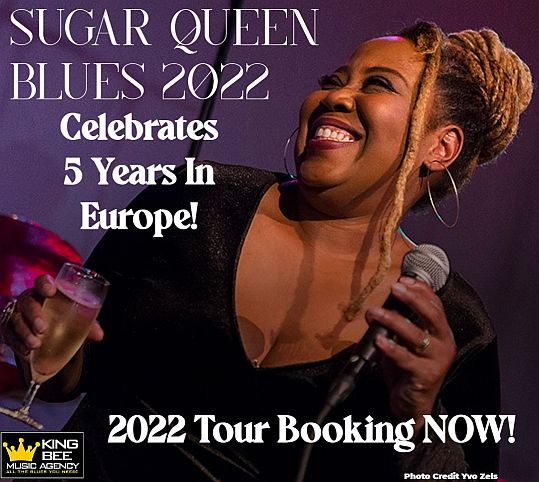 A LITTLE BIT ABOUT…
Sugar Queen
"Sometimes sweet-voiced and sometimes bombastic" describes blues songstress and songwriter, Sugar Queen aka Michele Denise.
Michele Denise, American Chicago blues vocalist/songwriter, was born and raised in the southern states of the USA with roots in gospel and jazz.
In her early years, Michele worked as a church pianist and sang and directed choirs. Receiving a university music scholarship, she studied classical piano. Never straying from her blues and gospel roots, she continued to perform singing in clubs and churches in the US.
Whilst touring various parts of the United States, she was singled out to perform in a historic "Mandela Released" event. Relocating to Asia in 2006, Michele formed in Malaysia the blues and classic rock band Deuces Wild. During 2007 while performing blues, she also worked as a jazz singer with internationalist jazz pianist, Yiang Yi Sock in Malaysia. In 2008, Michele had the distinction of performing for King Tuan Yang Terutama in Malaysia. Michele worked as a session vocalist and recorded with blues/rock artist, Wang Wei (Rock Rhino) on his self-titled CD "Wang Wei" in Beijing along with Chen Yuli, as the audio engineer, who was the head of music production for the Opening Ceremony of the 2008 Beijing Olympics.
In 2017 her career turned towards Europe, Sugar Queen and the Straight Blues Band broke onto the European scene performing at major blues festivals, clubs and tours.

Album Success

Sugar Queen has released 3 self written albums since 2017 which have gained international recognition in the blues charts!
• 2018 Sugar Queen's debut CD "340 Blues" ranked #9 in the RMR Top Chicago Blues Album
• 2019 "Sugar Queen LIVE" ranked #10 in the RMR Top Chicago Blues Album
• 2020 "Sugar Queen LIVE" ranked Top 25 in the RMR Top Chicago Blues Album
• 2021 "Better Days" ranked #4 in the RMR Top Chicago Blues Album

A Must See

Sugar Queen's smoldering vocal styling and charismatic stage presence captivates her audience. There has been no stopping Sugar Queen.
Her successful tours, performances at blues festivals and clubs are a testament to
"No Blues Party without the Sugar!"
"This diva blows you away with her deep and oh so powerful blues voice."
Antoine Légat, Banana Peel Blues & Jazz, Belgium
"Mit ihrer Stimme ist Sugar Queen über jeden Zweifel erhaben!"
-RockTimes, Germany
"But the heart of the band is definitely the singer, music flowing through her veins while swinging her hips rhythmically on stage in glittering dress and long dreadlocks.

Within a few songs, the audience danced on the dance floor…"
(Nina Witwicki, Badische-Zeitung Germany)
"What can this front woman do with her voice, but she is more than just a vocalist, she is the band's pacesetter but also a real show beast."
(Nicolette Johns, The Blues Alone Netherlands)
"She has brought in a killer band of local musicians to form the core of The Straight Blues Band, and collectively they have put together an amazing debut album.

From the first notes of "Crab Boil," it becomes quickly evident that Sugar has come to rock the blues…"
(Bob Leggett, LA Music Critic USA)
For ALL Sugar Queen information please visit Sugar Queen website
Video's:
Tour dates 2022:
02-04 FR - Douzy
08-05 NL - Amen / De Amer
05-06 NL - Nuenen
23-06 NL - Zoetermeer
25-06 NL - Rhoon/Poortugaal
16-07 NL - Dordrecht
31-07 NL - Brielle / Blues Festival
19-08 NL - Utrecht / Tivoli [supp. Keb Mo]
17-09 BE - Zottegem / More Blues Festival
15-10 NL - Texel / Blues Festival
16-10 NL - Grolloo / Hofsteenge
11-11 DE - Saarbrücken
12-11 BE - Liege
26-11 NL - Wijk bij Duurstede
More dates added soon!

Tour dates 2021:

11-04 NL - Amen CANCELED / CORONA
15-04 DE - Stuttgart CANCELED / CORONA
07-06 BE - Ruiselede / BananaPeel CANCELED / CORONA
26-06 NL - Rhoon / Festival CANCELED / CORONA
31-07 DE - Petershagen
01-08 NL - Utrecht
04-09 BE - Geel / Yellowtime Festival
01-10 DE - Eutin
09-10 NL - Texel CANCELED / CORONA
10-10 NL - Wageningen / XXL club [CD Release Party !!!]
11-10 BE - Ruiselede / BananaPeel
13-10 DE - Kandern / Chabah
14-10 DE - Stuttgart / Laboratorium
15-10 CH - Oberbuchsiten / Dos Amigos
05-11 BE - Hermalle / CC d'Engis
06-11 NL - Rosmalen / Festival
27-11 NL - Wijk bij D / Calypso
11-12 NL - TBA
Tour dates 2020:
09-02 NL - Rijen / 't Vermaeck
23-02 NL - Zoetermeer / JJ Music House
04-04 NL - Private party CANCELED / CORONA
05-04 NL - Rotterdam / l'Esprit CANCELED / CORONA
01-05 DE - Leverkusen CANCELED / CORONA
02-05 DE - Rheinberg CANCELED / CORONA
03-05 NL - Amen CANCELED / CORONA
06-05 DE - Kandern CANCELED / CORONA
07-05 CH - Basel CANCELED / CORONA
08-05 DE - Stuttgart CANCELED CORONA
31-05 NL - Nuenen CANCELED / CORONA
29-06 BE - Ruiselede CANCELED / CORONA
11-07 NL - Dordrecht CANCELED / CORONA
12-09 BE - CANCELED / CORONA
20-09 BE - Zottegem / More Blues Festival
26-09 NL - Spijkerboor (Trio) Sold Out
27-09 NL - Spijkerboor (Trio) Extra concert

10-10 NL - Delfzijl
15-10 BE - Menen
17-10 BE - Liege
06-11 BE - Hermalle CANCELED / CORONA
28-11 NL - Amersfoort (Trio)
28-11 NL - Wijk bij Duurstede CANCELED / CORONA
29-11 NL - Rotterdam (Trio) CANCELED / CORONA
11-12 NL - Sittard (Trio)
Previous tour dates 2019:
April 2019 CD Promo-tour:
06-04 BE - Liege
07-04 DE - Rheinberg
08-04 DE - Weinheim
09-04 LU - Luxembourg
10-04 DE - Kandern
11-04 CH - Basel
12-04 DE - Murg
13-04 DE - Stuttgart

21-04 NL - Rhoon
26-04 NL - Dordrecht / CD Release Party
01-06 BE - Zottegem
05-07 LU - Festival
13-07 NL - Dordrecht Big Rivers
28-07 NL - Brielle Blues Festival
Previous Tour dates 2018:
07.01 NL - Zoetermeer / Meet & Greet + CD Release Party at JJ Music House
14.01 NL - Bunnik
20.01 BE - Roeselare
10.02 FR - Douzy
17.02 NL - Delft
25.02 NL - Amen
10.03 NL - Leerdam
25.03 NL - Rotterdam
22.04 NL - Wageningen
21.07 LU - Luxembourg
08.09 NL - Zoetermeer
15.09 NL - Nispen
16.09 NL - Rijen
21.09 BE - Hermalle
29.09 NL - Boxmeer
18.10 BE - Bredene
03.11 NL - Rosmalen
10.11 BE - Haringe
28.12 NL - Gramsbergen