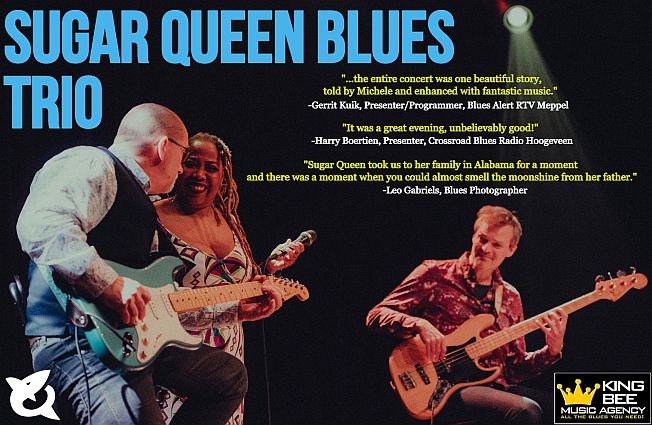 No more live music after 5 pm? We have the solution !


Blues & Brunch Concerts between 1 - 5 pm.
Michele Denise, American blues vocalist/songwriter, was born and raised in the southern states of the USA with roots in blues, gospel and jazz. Singing about the struggles, love, happiness of the blues, "sultry" Sugar Queen captivates her audience with her unique Chicago blues style. She tells her stories with gritty raw emotion. Previously working in the US and Asia, Sugar Queen broke on the European Blues music stages in 2017 performing at a large number of major festivals and clubs. Her Sugar Queen LIVE 2019 European tour was wildly successful. Sugar Queen also has international success with 2 self-written CDs "340 Blues" and "Sugar Queen LIVE" both ranked in the top 10 Chicago Blues charts in 2018 and 2019.
Jean Raven, Guitarist, first heard a band playing the blues at the age of 25 and the next day he bought the BB King Album "Now Appearing at Ole Miss"and a guitar. Known for his playing styles varying from Chicago Blues to West Coast and from Buddy Guy to Kid Ramos, Jean has played as an opening act for Duke Robbillard and Gene Taylor. He has also played with diverse bands such as Dave Chavez and the Jumpin' Joe Band. Jean has written 3 songs for Sugar Queen's debut CD "340 Blues" which reached the number 4 position on the Chicago Blues Roots Music Charts. His composition, "Give Sugar" featured on Germany's Bluesnews Collection CD.
"Jean Raven rightly receives interim applause for his dexterity, with which he breathes new life into the classic blues scheme. He interprets the melody with virtuosity…" -Thomas Wilke, Ueberwaelder Wordpress at Muddy's Club, Germany
Erwin Huigen, Bassist, bridged the gap between jazz and blues, as he was first inspired playing the guitar with a heavy influence by the style of Robben Ford. As a consequence, next to playing a steady groove he loves to step outside and visit the higher regions to have some fun and add to the harmonies. Erwin ultimately picked up a bass and never looked back! After being awarded as a top musician at the Berklee Clinic, Erwin opened for the Umbria Winter Jazz Festival in Orvieto. Performing throughout Europe, Erwin met Sugar Queen in Spain and joined in 2017.
Here's a nice impression of the Sugar Queen Trio (filmed at De Goudse Schouwburg 15th Jan 2021):

Tour dates Sugar Queen Trio:
2021

03-01 NL - Utrecht / canceled
15-01 NL - Gouda
13-02 NL - Hoogland / cancled / postponed to 07th November
27-03 NL - Borger / canceled
25-06 BE - Olmen - De Schieve / canceled !
13-11 NL - Borger / VanSlag